I just discovered an active tower previously unknown to the signaling community that has the glorious distinction of being active despite having closed over 20 years ago...and then after adding it to the active list, had to take it right back off again as it was closed for good in 2010 and DEMOLISHED in 2011. The tower in question is
'CA' tower in Terra Alta, WV
on the famous CSX Mountain Sub, a all brick B&O design that is a sister to the famous SA tower at Sand Patch, PA (also demolished) and HX tower in Halethorpe, MD. Apparently, when the tower was first closed sometime in the 1980's due to a track rationalization, the line was still not put up for a re-signaling. As happened to a select few other towers, the maintainer chose to leave the interlocking machine in place, in this case a 56-lever GRS Model 2, and leave one lever wired up and active to run a single remaining B&O CPL automatic signal (previously a controlled signal in the interlocking plant). After, after 20 years in zombie service CSX finally got around to re-signaling that portion of the line, but also decided that as long as they had their backhoes in place they might as well demolished the secure and structurally sound tower. Way to preserve your heritage CSX, make sure that nobody might ever be in a position to preserve it. Let's hope that someone in the know was able to make off with the interlocking machine in some form.
Anyway, I was alerted to the ups and downs of CA tower by a pair of photos posted on
railpictures.net
.
Here we see the GRS pistol grip machine.
The single active lever equipped with a blocking device so nobody accidently causes a service disruption.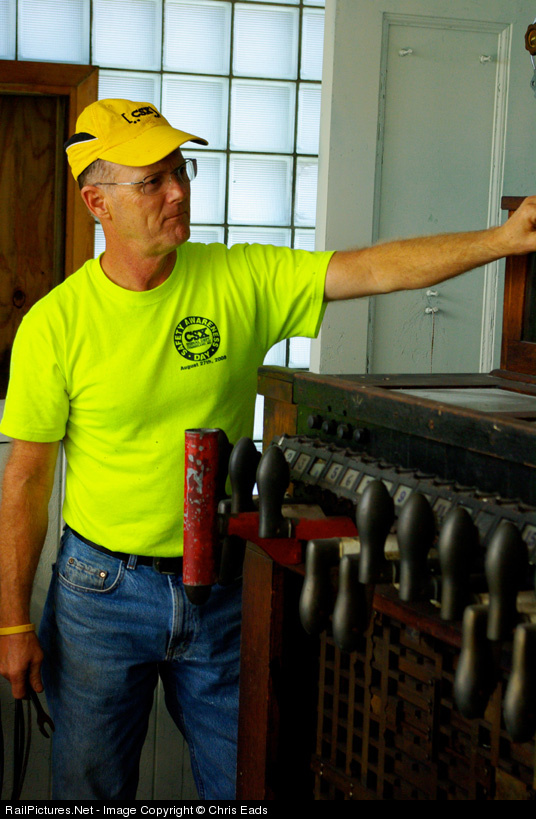 Tower as it stood through 2010. Note the thick bundles of wires heading into the relay room indicating something was still going on in there.